www.facebook.com/claudiatapety
Mt Smart Stadium, Auckland-New Zealand - Dec 16, 2017
www.instagram.com/shelleysketchx
@paulmccartney
What a show! What a man.
He even waved at us from his tour bus as he left. Clearly leaving early to buy my lithograph was a good idea
Thank you Paola for taking me! I had such a great time 💙
@paulmccartney
Union Jack
NZ Flag
Pride Flag
Maori Flag
www.instagram.com/nothamilton
Setlist.fm for the win on peeing during a new song 😝 #paulmccartney #oneonone #mtsmartstadium
Awesome show
www.instagram.com/constantstar001
Sir Paul McCartney... 75 years young. Living legend.
#paulmccartney #oneonone #auckland
SEE IN PERISCOPE :
https://www.pscp.tv/w/1djGXMMnWboJZ
https://www.pscp.tv/w/1lDxLAAMYLbKm
https://www.pscp.tv/w/1nAKEWWyNYkJL
https://www.pscp.tv/w/1yNGaVVOeNNJj
https://www.pscp.tv/w/1ZkJzddkqPdKv
https://www.pscp.tv/w/1gqxvYYnEekJB
https://www.pscp.tv/w/1vAxRMMyOVDJl
www.stuff.co.nz
All you need is Macca: Paul McCartney rocks Mt Smart
STEVE KILGALLON
December 17 2017
He didn't look 75 and he didn't act it either.
Still with plenty of black in his hair, and life in his voice, Paul McCartney played the old hits and he played them like it was still the 60s. Got the original versions? Close your eyes and you could hear the same arrangements.
McCartney's near three-hour marathon built momentum and atmosphere as the night drew in and the realisation grew that we would most likely never hear the co-writer of some of our most iconic songs deliver them live here again.
Paul McCartney walked out on stage at his One on One Tour at Mt Smart Stadium, Auckland, with no words, just a salute.
ASON DORDAY/STUFF
Striding on stage at Mt Smart Stadium without a word, but instead a salute, McCartney launched into a note perfect A Hard Day's Night that set the scene for the marathon gig to come. It was an apt choice: it's hard to recall an artist who worked so hard to give his audience value.
McCartney had rehearsed his kia ora and promised the crowd "some old songs, some new songs and some in between songs" and a good night.
Wryly, he said they could tell when the audience liked a tune because the phones were out "like a galaxy of stars" for the old Beatles hits and it was "like a black hole" for the rest, "but we don't care". He did really: an early mix of songs which included the first demo track from the Beatles' forerunner The Quarrymen, all the way up to McCartney's recent collaboration with Rihanna and Kanye West, FourFiveSeconds​, gave way as the night went on to a heavily Beatles-oriented list - and some cracking yarns. The near-capacity crowd - a relief, given suggestions of slow early ticket sales - which included Peter Jackson and Neil Finn brought a genuine enthusiasm which seemed to give McCartney renewed energy in a cracking final hour.
Highlights included an acoustic Blackbird, a highly charged Back in the USSR, the flamboyant fireworks, flamethrowers and lasers that accompanied Live and Let Die and a set-closing Hey Jude that had the entire crowd singing along.
McCartney bounced back out for an equally-generous encore that included Yesterday, a live pipe band that transformed Mull of Kintyre into something quite moving, and then closed with the end of the Abbey Road album.
It's hard to recall an iconic artist coming here and giving as much as McCartney did. A gig to be remembered.
www.nzherald.co.nz
Concert Review: Paul McCartney at Auckland's Mt Smart Stadium
NZ Herald
16 Dec, 2017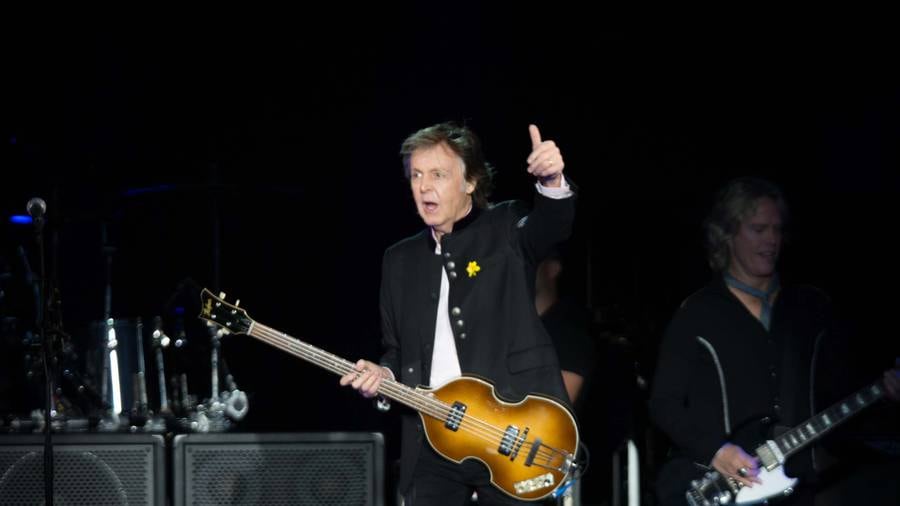 Sir Paul McCartney performs at Mt Smart Stadium today. Picture / Chris Loufte
Last night Paul McCartney led a thoroughly captivated audience though a magical mystery tour of his greatest hits.
The magic was in the air, in his songs and in the buzzing vibe of a nearly full Mt Smart Stadium as the crowd greeted Macca with a standing ovation. The mystery lay in wondering which of his classic songs he was going to play next.
The answer? All of them.
On stage for around three hours McCartney didn't leave anyone disappointed with his song selection. From the opening, iconic, chord of A Hard Day's Night to the extended "Na, na, na-na-na" of set closer Hey Jude the consummate showman put on one heck of a crowd pleasing show.
It wasn't just the music that had fans enthralled, with McCartney pausing the hit parade to regale the crowd with incredible stories of his rock star life, casually dropping in anecdotes about Jimi Hendrix and John Lennon, among so many others.
Musically, it was a tireless performance with an enthusiastic McCartney leading his slick band through an unrivalled catalogue of hits.
During his main set McCartney played new songs, including FourFiveSeconds his recent collaboration with Kanye West and Rihanna, and old songs that stretched right back to In Spite of all the Danger, a song by his pre-Beatles band the Quarrymen.
These were politely received, but the audience was there for the songs that shaped their lives. And McCartney gave the generation-spanning crowd exactly what they came for.
He dove deep into the Beatles back catalogue and, to his credit and the audience's delight, didn't restrict his selection to just "his" songs.
Sir Paul McCartney gets the crowd pumping at Mt Smart Stadium. Picture / Chris Loufte
His re-imagining of Something was a touching tribute to Beatles lead guitarist George Harrison and his swirly-wurly run through of Being for the Benefit of Mr Kite was an appropriately psychedelic hat tip to his former song-writing partner and co-Beatle John Lennon.
Solo material and hits from Wings, his post-Beatles group, also played well with the crowd.
Hits came thick and fast throughout the night; Jet, Maybe I'm Amazed, Eleanor Rigby, A Day in the Life, Band on the Run, Live and Let Die and, of course, a stunning rendition of one of the greatest pop songs ever written, Yesterday.
For many seeing a Beatle perform was a once in a lifetime opportunity and McCartney worked hard to make it truly a night to remember.
Sir Paul McCartney performs at Mt Smart Stadium. Photo / Supplied
Sir Paul McCartney performs at Mt Smart Stadium. Photo / Supplied